Welcome to Christ Church Kelowna!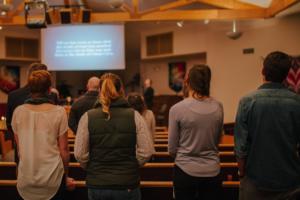 It's true to say that Christ Church Kelowna is all about God. We believe that there is nothing as important and nothing as satisfying in this life as knowing God, walking with God, and loving God in the company of His people. This is eternal life, this is real joy and perfect freedom: to know and to be known by God our Father, to be lovingly embraced by the Maker of the universe, to drink deeply from the Fountain of all goodness and beauty.
Every Sunday, and throughout the week, we meet to celebrate the true and living God and the wholeness He gives, a new life that is made possible only through the matchless gift of God's Son, Jesus Christ, whose life, death, and resurrection defeated all the powers that stood against us. He is the only anchor of our salvation, and we are sons and daughters of God only because Jesus Christ gives Himself to us freely, in all of His righteousness.
We are a church that wants to draw near to God, to grow in our knowledge of Him, and, as we meet together in genuine community, to be shaped into a godly people by His gracious, empowering presence.
We are evangelical, we are reformed, and we are Anglican. Most importantly, we are Christians. For a detailed description of what this means, please click here.
We love the Bible. We love those doctrines that make much of God and of the greatness of His glory, that proclaim his wisdom, his strength, and his unfailing mercy towards his children. And we love to worship together: to draw near in faith to the Lord's sacraments, to pray, to listen, to sing, to surrender, to obey. This is life at its fullest.
We welcome you to worship with us, and to discover with us that the love of God in Christ Jesus, truly, is the only water in this life that satisfies forever.
Pastor Jon